Our story
Crafted with exquisite ingredients, carefully and lovingly grown in-house at our distilleries in North India. NASO stands as an artisanal perfumery. With its new & normal culture and it's youthful approach to extenuate the rich set of authentic ingredients, it classifies as a youthful energy in it's very own 'green' way.
Our Blends
In Our Blends We use the pure extract from herbs and spices this country has to offer in our signature fragrances.
Natural Indian 'attar' becomes the base of all our essences - making them free of all synthetic or artificial essences.
Our goal
Our goal is to stay true to the ancient soul of Indian perfumery, and make the process 100% sustainable.
To reinvent its traditional techniques and to serve a global audience with modern sensibilities.
we feel smell preaches a sense of familiarity; a sense of the known and a mystery of the unknown. We at Naso, want to create and reciprocate those fond memories, through our scents specially for you.
A NEW NORMALITY // NORM-CORE
In a world where craziness has become so passé, normal is the new cool! Our gender neutral scents embrace the rising norm-core trend in international fashion.
THE ANTI-PERFUME PERFUME
Anti-perfume perfume celebrates molecule; showcasing the subtleties and intricacies of lab derived olfactory experiences. It is said to be more of an effect than a fragrance. Its more of a feeling and an emotion that one wears.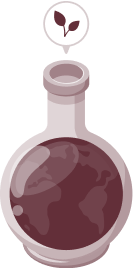 GREEN DESIGN
We are extremely environmentally conscious and this is conveyed in our design sensibilities. All of our products are free of synthetic chemical. Bottle design and usage of product are matters of high sensitivity and we try and curate our designs in an environment friendly and anti-waste way.